TENNIS
Battle of the Brits: Norrie beats Evans; Watson fights back to win
Cameron Norrie (right) received advice from Bulldogs coach Leon Smith during the matchCameron Norrie beat Dan Evans 7-6 (7-5) 7-6 (8-6) to record his second straight win over the British number one at the Battle of the Brits team competition.That impressive victory was one of five from eight matches for the British Bulldogs side, who…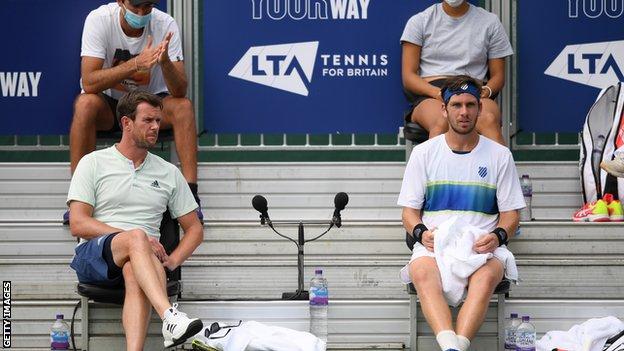 Cameron Norrie beat Dan Evans 7-6 (7-5) 7-6 (8-6) to record his second straight win over the British number one at the Battle of the Brits team competition.
That impressive victory was one of five from eight matches for the British Bulldogs side, who lead the Union Jacks 29-12 after day three.
British women's number two Heather Watson gave the Jacks a good start with a 3-6 6-1 10-6 win over Eden Silva.
However, Jamie Murray lost both his doubles matches for the team.
Murray's first defeat was with partner Katie Boulter as they went down 3-6 6-4 10-8 to Norrie and Beth Grey, who had earlier beaten Naomi Broady 6-3 6-2, in the mixed doubles.
He and partner Evans were then overwhelmed by Joe Salisbury and Kyle Edmund 6-3 6-4 in the men's doubles – the final match of the day. British number two Edmund's wide serves to the backhand and powerful forehand strokes were particularly effective.
"It felt pretty good," said 28-year-old Salisbury. "It was the first time we've played together. We stayed on top the whole way."
Regarding his team's big advantage in the team competition, the Australian Open doubles champion added: "We have a good lead but we'll definitely not let our foot off gas."
The first to 60 points will win the seven-day competition, which features 40 singles and 20 doubles matches and finishes on Sunday.
'I was lucky to come through'
Norrie's singles win on the centre court at Roehampton was one of the more entertaining contests of the day.
Opponent Evans' emotions boiled over at times – bouncing his racquet off the court, dislodging a microphone and celebrating a net-cord point during the first set.
The 30-year-old was then 5-1 up and had set point in the second set before Norrie fought back to seal a great win.
British number three Norrie, 24, said: "It was tough. I was lucky to come through in the end and did well to come from 5-1 down.
"I was really pleased to get through that second-set tie-break. I was just trying to focus on my level. Credit to Evo [Evans] who came at me strong in that second set."
Elsewhere, it was mixed day for the Broady family. Liam, competing for the Bulldogs, succumbed 6-3 6-4 to Jan Choinski before older sister Naomi made amends for her singles defeat by partnering Jacks team-mate Lloyd Glasspool to a 6-1 6-4 win over Dom Inglot and Maia Lumsden.
Bulldogs' Emma Raducanu, 17, continued to impress this week with a 7-5 6-3 victory over Jodie Burrage – her third win of the week.
The Battle of the Brits team event features the country's leading men and women at the National Tennis Centre, split into two groups chasing points in singles, doubles and mixed doubles matches.
The event has been organised by Jamie Murray to provide competitive action for British players while the professional tours remain suspended because of the coronavirus pandemic.
Wednesday's results
Union Jacks 12-29 British Bulldogs (first to 60)
(Matches show Union Jacks players first, with points available in brackets)
Centre court:
Heather Watson 3-6 6-1 10-6 Eden Silva (two)
Dan Evans 6-7 (5-7) 6-7 (6-8) Cam Norrie (two)
Lloyd Glasspool/Naomi Broady 6-1 6-4 Dom Inglot/Maia Lumsden (one)
Jodie Burrage 5-7 3-6 Emma Raducanu (two)
Jamie Murray/Dan Evans 3-6 4-6 Joe Salisbury/Kyle Edmund (three)
Court one:
Naomi Broady 3-6 2-6 Beth Grey (two)
Jan Choinski 6-3 6-4 Liam Broady (one)


Sports Life. Real News. Real Voices
Help us tell more of the stories that matter
Support Us
Subscribe to the newsletter news
We hate SPAM and promise to keep your email address safe